5. July 2019.
The series Kosti (Bones), done in cooperation between Radio Television of Serbia and Bosonoga Production, was wrapped on July 5th 2019 after three months of filming.
After 66 days of filming, on more than 50 locations, the last shots were filmed in Banja Luka. Prominent local and regional actors, a total of 54, as well as more than 500 extras, told the story of this city and its people, who live in post-war chaos, a system in which family and social and cultural values are completely destroyed.
Bones is the second part of the trilogy about the city of Banja Luka, which comes after the great regional success of the series and the film of the same name Meso (Flesh). Talented artists and creatives, led by screenwriter Nikola Kolja Pejaković and director Saša Hajduković, as well as producer Brankica Janković and directors of photography Saša Petković and Dragan Radetić, have joined forces again on this project, which will be presented to fans of local cinema at the beginning of next year.
The well-coordinated Bosonoga Production team, a strong leading cast led by Ljubiša Savanović and Jovo Maksić convincingly presented their characters along side with great supporting cast Dragan Mićanović, Lea Sekulić, Milica Janevski, Nikolina Friganović, Aleksandar Đurica, Boris Isaković, Goran Sultanović, Dejan Aćimović, Ljubomir Bandović, Branko Janković, Igor Đorđević, Nikola Rakočević, Zlatan Vidović, Aleksandar Stojković Piksi, Boris Šavija, Željko Erkić, Željko Stjepanović, Faketa Salihbegović and many others who are equally responsible for the success of this project.
"Although I often feel as if we started filming yesterday, we have put three months of quality work behind us, but more importantly, good energy and mutual support of all the people gathered around the Bones project. It was both hard and beautiful and I truly believe we are, thanks to the selfless efforts of everyone included, from the people who led the creative team, to the actors, extras, but also everyone else gathered around this creative story, they did a great job ", said Hajduković.
This is exactly the strength of this authentic story – in its creative, recognizable stamp, but also in the fact that it is a pioneering endeavor, writing the pages of film history in this region. Bones, as well as Flesh, are an important project for Bosonoga Production, because they represent a continuation of a serious, professional story about film industry in Republika Srpska. At the same time, with the cooperation with RTS, the cultural connection between Banja Luka and Belgrade was intensified.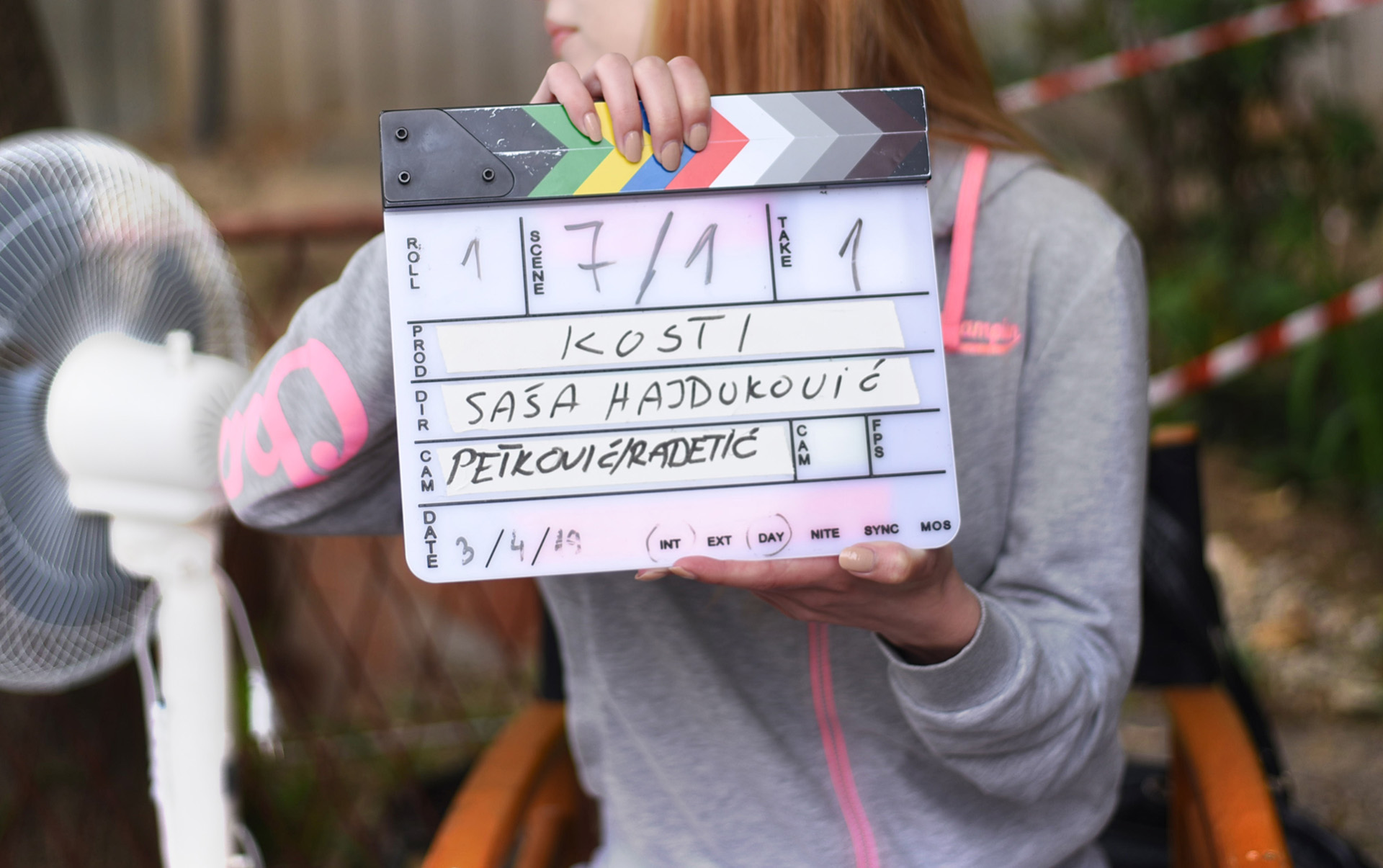 "This pioneering step is a confirmation of our determination to put Banja Luka on the map of the film industry, but also to promote the city itself, its people and the numerous talents it has, in that way." That we succeed in that, they confirm, is not only the regional popularity of Flesh, but also the success that this project records, through numerous awards and participation in festivals. "I am proud of all the young, talented people who worked on the Banja Luka trilogy, and I sincerely believe that Bones TV series will be equally loved and successful," Janković pointed out.
The series Bones, currently in post-production, is a step further towards the goal set by the Bosonoga Production team. The broadcast is planned for the fall of 2020.