29. May 2020.
Filming continues in the Bosonoga Production studio
"Hotel Balkan", situated just outside of Banja Luka, opened its doors to representatives of major media outlets in Republika Srpska, which made continuation of its namesake telenovela filming official, coproduction between Telecom Serbia and Bosonoga Production.
It is a serial program that will take viewers, as in some sort of time machine, through the generation gap, intrigues and sins of hotel owners, members of the Kuruzović family, and connect the past and the present.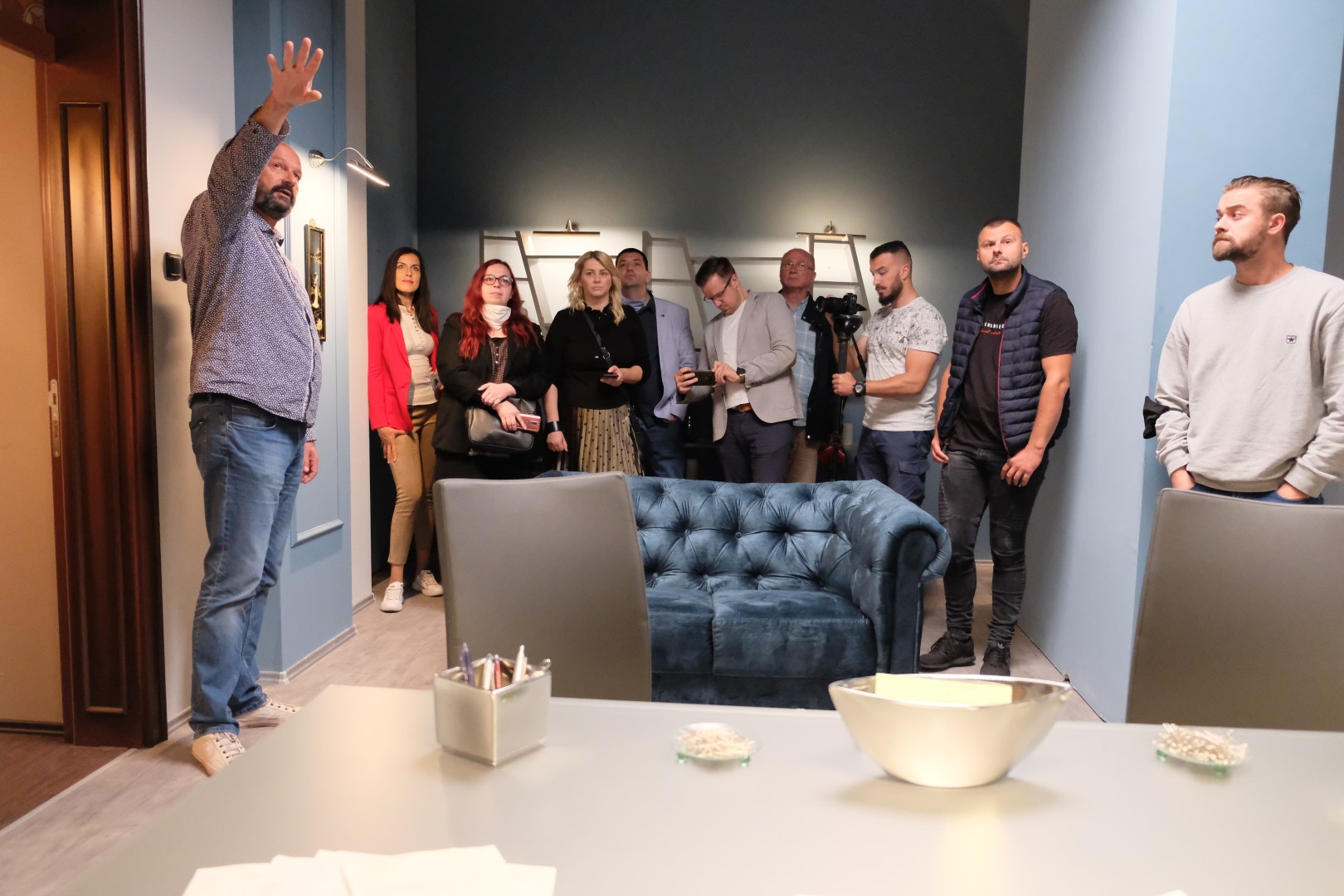 "It was demanding, if not challenging, starting from the construction of the studio, to the set design for this project, since all the props are original and authentic. The crew is young, but very talented and dedicated, so I believe that the audience will, from the beginning, recognize their professionalism and the overall quality of this series ", said Brankica Janković, producer and director of the series.
Media representatives had the opportunity to, after the tout of the studio/hotel, watch first three episodes of "Hotel Balkan". After the projection, director Saša Hajduković and assistant director Dragana Đedović, as well as set designer Slobodanka Pilić and David Gatarić, postproduction supervisor, addressed the audience and explained in more details what was like to work on the series so far, and their plans for the continuation of filming.
"Our plan was to give depth and content to seemingly easy format and to raise the bar, in aesthetic and dramatic sense. We are talking about one of the most watched genres with the most faithful viewers and it's a real challenge to give an authentic signature to the given format" said the director Saša Hajduković.
TV series "Hotel balkan" will air in fall on Superstar TV, at the same time as the filming of second season of this telenovela.
"Telecom Serbia, in accordance with world trends, brings not only the best services, but also the highest quality serial content. I am extremely pleased that we were given the opportunity to support one such project from Republika Srpska, that m: tel BiH users will be able to enjoy this fall", stated Vladimir Lučić, coordinator for internet and mulimedia in Telecom Serbia group.
"Bogonoga Production" is a pioneer of cinematography in Republika Srpska, and this project and other similar projects from its "kitchen", such as "Flesh" and "Bones", are a confirmation that this team is dedicated to working on top achievements, as well as numerous awards at regional and international film festivals.